Miami AC Services - Emergency AC Service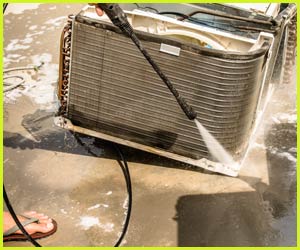 A hot summer afternoon, which is in no way rare in Miami, FL is a time when one wants to just hit the couch with a cold drink and the air conditioner controlling the temperature and dipping it to comfortable numbers. But imagine if this pretty picture is suddenly brought to a halt when your air conditioner gives in without intimation! Nerve wracking, isn't it? You can always call in a professional AC repair service provider to come in and rescue you. But what if such a break-down happens in the middle of the night? Do you know of a provider who will turn up at such odd hours? Or do you think you can wait till morning to report? Well you do not need to delay action on your AC repair as there is such an emergency AC service provider, which can be at your service in almost 30 minutes – all you need to do is simply make a call on 786-549-1244.
This service provider – Miami AC Services is an esteemed AC repair and maintenance service company that has been providing solutions to commercial and residential clients. The advantage of working with us is that there isn't a need to spend exorbitant amounts on emergency AC repair services, which are dispensed at an upfront agreed price, anytime that you need.
Want to avoid AC emergencies? Consider this:
One would not like to be in a situation when the air conditioning isn't working. Below is a list of some of the major reasons for the same:
Hiring inexperienced technicians: If you choose not to provide effective and routine maintenance to your HVAC, you are increasing chances of depreciating performance and break down in times to come.

Improper preventive measures: If the maintenance measures put in place as a preventive defense system were not proper, there is an increased chance of you needing to call in emergency AC repair services, to bail you out.

Outdated system: An outdated air conditioning system which has outlived its useful life would give constant troubles and increased costs over time. If you ever find the maintenance costs peaking above 50% of the initial cost of the AC, you know it's time to get it replaced.
When it does happen, call Miami AC Services
You might be very particular with keeping the maintenance routines for your air conditioner up to date, but there is still this chance of unforeseeable circumstances causing havoc. When such an emergency strikes unsparingly, trust Miami AC Services to answer your call in the very first instance and this is why our helpline does not stop ringing with calls from customers in Miami, FL.
CHOOSE US FOR:
24/7 solutions:
Nothing for us is an off business hour working, and this is the magic of a round the clock, 24 hour service promise with which we operate with our clients.
Onsite solutions:
You will not have running to and fro our store and our place, as we operate through mobile vans with all the nuts and spares we need on board. This is why the service jobs we render are amongst the swiftest in Miami, FL area.
No added charges:
Paying double the amount for an overnight service, for something which is quite cheap during the day? This isn't something you will find with us, as we believe in fixed, non-fluctuating, straight transparent cost structures for our clients.
Scouting for professional help to correct a broken air conditioner? Give Miami AC Services a call on 786-549-1244 today and leave all your worries with us.